Porcelain: The Smartphone of the Tile Industry
Audrey Healey • Jun 29, 2018
Do you remember when our lives were forever changed with the smartphone? Suddenly, billions of users with varying intents had their needs met with one single piece of technology. Minimalists could discard their chaotic planners, scientific calculators, and battery-powered flashlights. History fanatics could take a virtual tour of the Roman Empire's ancient capital city with one simple download. Even those with a more old-fashioned outlook on life could find purpose in the smartphone's ability to document and categorize photos. The needs of many were met with a single technological device.
But while the smartphone may be in the spotlight, it isn't the only everyday product that has been transformed by innovative technology. To that same effect, porcelain has transformed the design industry by accomplishing the needs of many with a single solution. Those same minimalists can acquire an industrial concrete floor, without foot-chilling consequences. The historians can make a tribute to their ancestors with the elegant essence of a delicate marble, without impossible maintenance. And the traditionalists can deliver a warm welcome with wood-look tile, forgoing unwanted scratches and discoloration.
Like smartphones, porcelain is not an extremely new revelation. In fact, each began really taking off in the market during the early 2000's. But as the years have passed and technology has further developed, each has remained a hot commodity. See below why porcelain tile is still an obvious choice.
When it comes to porcelain, there are three valuable categories: appearance, application, and advantage. Put simply, the technology used to fabricate porcelain allows for a variety of appearance possibilities. As mentioned previously, the faithful reproduction of concrete, marble, and wood is not unusual. Other commonly replicated materials include slate, granite, and quartz. But if all possibilities are explored, one will find textile-like patterns (allowing the consumer to add a modern twist to the traditional wallcovering) and even physical textures (from wood grain to undulating movement.) These infinite visual capabilities are each complimented by varying size possibilities—both width and thickness—which further maximize potential.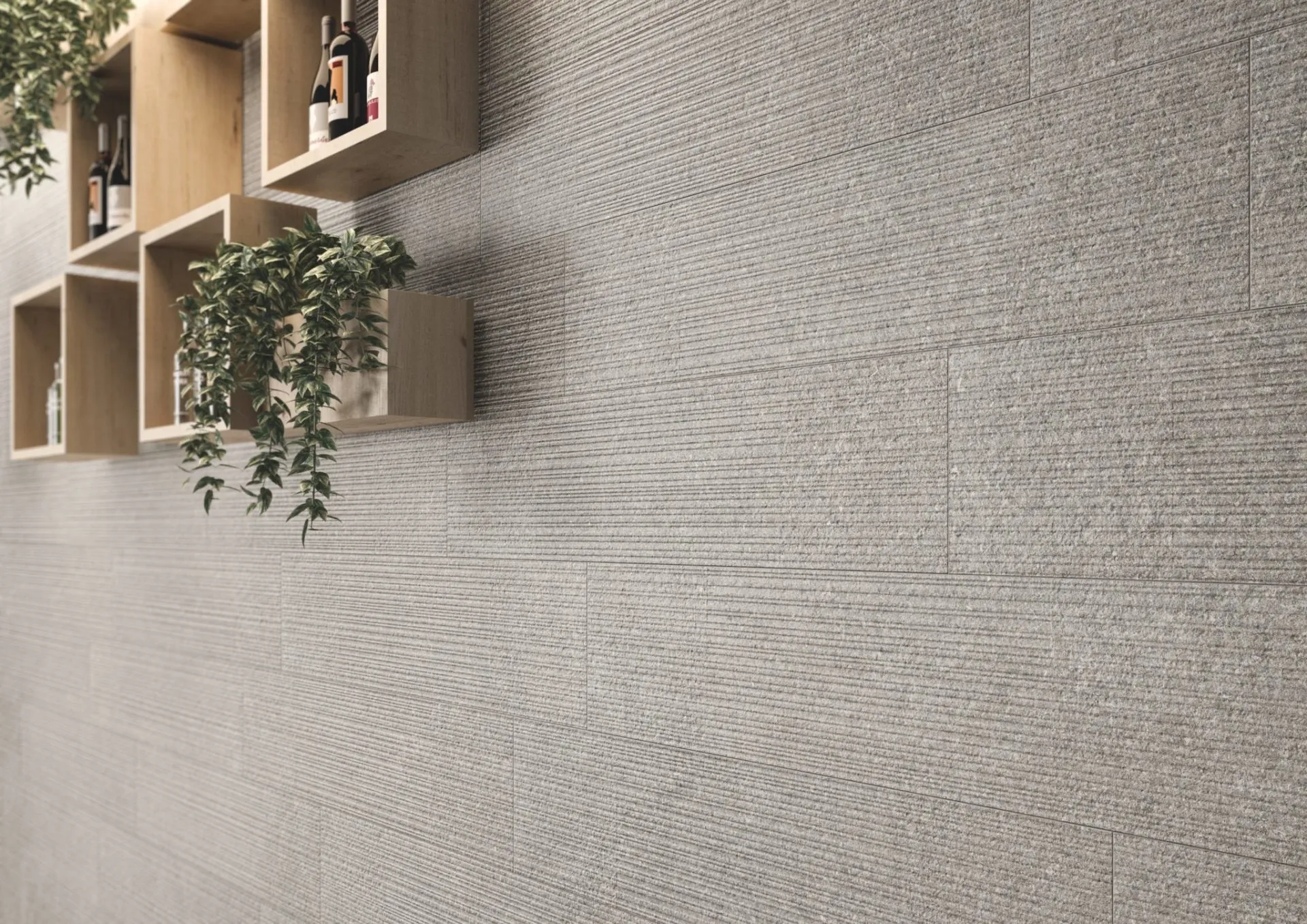 Textured Porcelain Tile
In addition to the varying visual effects, the impressive physical characteristics of porcelain make it an ideal solution in nearly any application (unlike soft marbles or impressionable hardwood.) Due to strikingly low porosity, moisture is not a concern, therefore making kitchen and bath applications a realistic option – Goodbye, impossible stains! Due to anti-fade and anti-freeze properties, outdoor installations are also plausible -Goodbye, painful splinters! And due to impressive wear-resistant and slip-free technology, high traffic areas are not an issue either – Goodbye, embarrassing scratches! Clearly, this decorative, dense, and durable material is a solution for anyone, anywhere.
Now if its versatility alone doesn't sell you, this modern, low-maintenance material will be a sure choice when you consider these final three advantages: Porcelain is easily maintainable; gone are the days that you're forced to wax every twelve months. Don't forget the stress that will be relieved in knowing that most cleaning products will not be harmful to your porcelain surface. Next, its durability guarantees that you will tire of it faster than it will tire of you (we're talking 50+ years!) So while it may seem pricey at first, consider its impressive life expectancy before moving on to other options. Finally, it's healthy—both for you and the environment. Porcelain tile, by nature, does not contain any VOC's.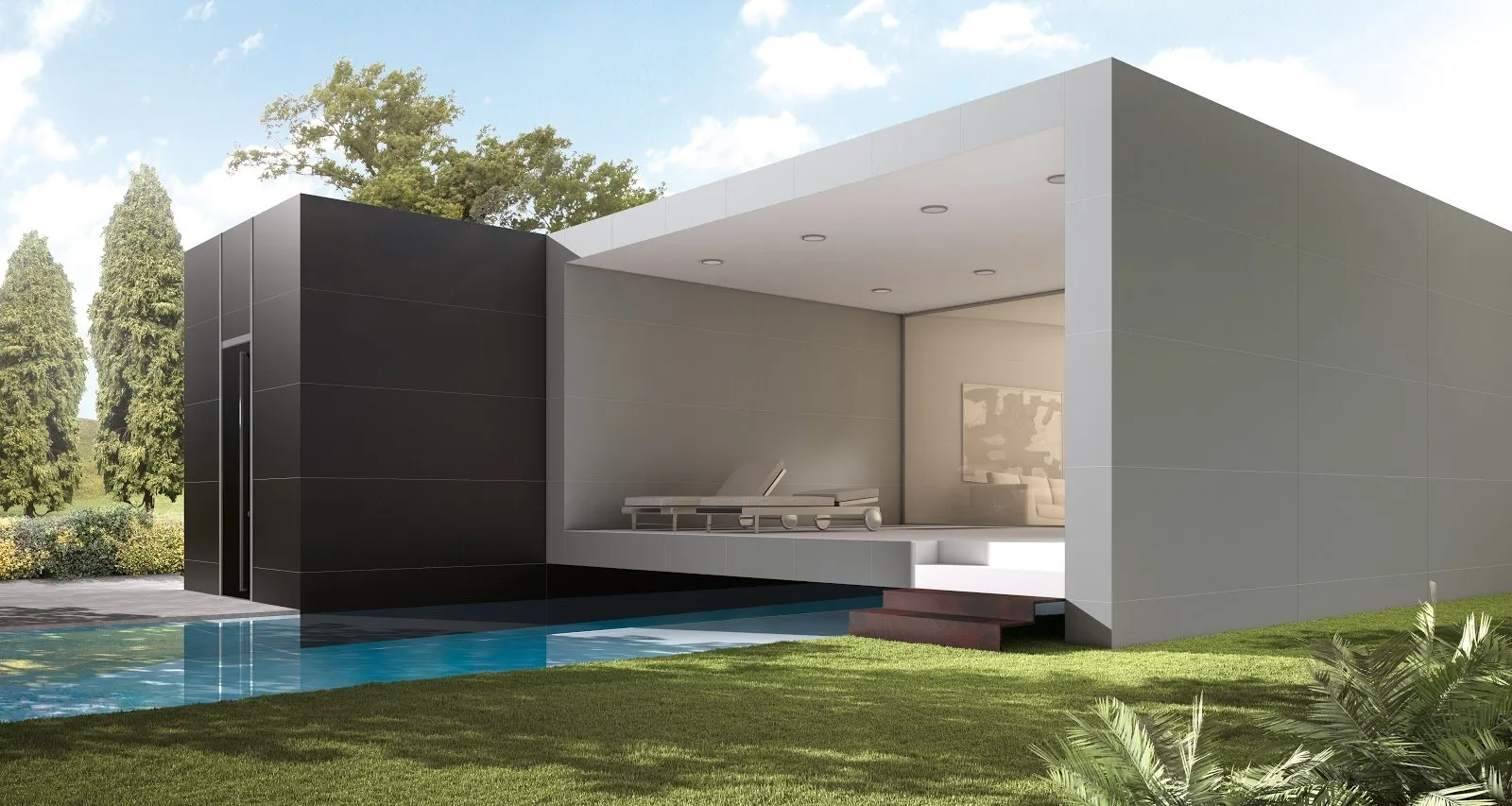 Exterior Porcelain Application
In closing, you've learned of porcelain's varying forms of appearance, limitless applications, and countless advantages, so we think it is safe to say you've had a proper introduction. It is obvious why porcelain continues to be among the most popular materials on the market. Check back with us in the coming weeks for an introduction to the finest porcelain brands including Ceramiche Keope, Cotto d'Este, and more!
By Audrey Healey